We deliver award-winning IT support, cyber security and outsourced CTO services across the Southwest and Bristol.
Every business and industry has unique technical support and strategy requirements. Our diverse clientele includes organisations in the legal, HR, healthcare, professional services, accountancy, and finance sectors. At Gather, we collaborate with each client to craft a personalised IT services plan, addressing their specific technology, leadership or security needs.
If you're a Bristol-based business exploring IT services outsourcing, you can speak with a Gather expert today to agree the support program necessary to ensure comprehensive security, futureproofing and improved uptime.
Bristol's Dedicated IT Experts
Discover our range of services as leading IT support experts.
Our partners regularly work with us on individual projects and ongoing bespoke support arrangements.
---
Our IT support service is dedicated to maintaining uninterrupted operations. We implement robust strategies that aim to keep you online and allow your business to run smoothly around the clock.
Our proactive cyber security service is committed to shielding clients from threats. We deploy cutting-edge measures, vigilant monitoring and proactive risk audits to ensure continual protection of your digital assets and client privacy.
Our IT infrastructure project focuses on modernising legacy systems to avert security risks and downtime. Our ability to execute infrastructure projects rapidly and within budget ensures that your technology stay up-to-date, secure, and in sync with your changing requirements.
Backup & Disaster Recovery
With our robust backup and disaster recovery protocols, we create a safety net to shield both your organisation and clients from data loss. You can have assurance that, even in unforeseen events, your business will retain all its critical data.
Our IT consultancy and outsourced Chief Technology Officer (CTO) service is your strategic technology partner. We provide expert guidance and leadership, ensuring your technology aligns with business goals, empowering innovation, and efficiency for seamless growth.
Office
365
Considering a migration to the widely adopted cloud-based email system, Microsoft Office 365? Our seamless transition process ensures minimal disruption to your daily operations.
How to Write a Cyber Strategy
We've put together this useful guide for any security conscious Bristol organisations.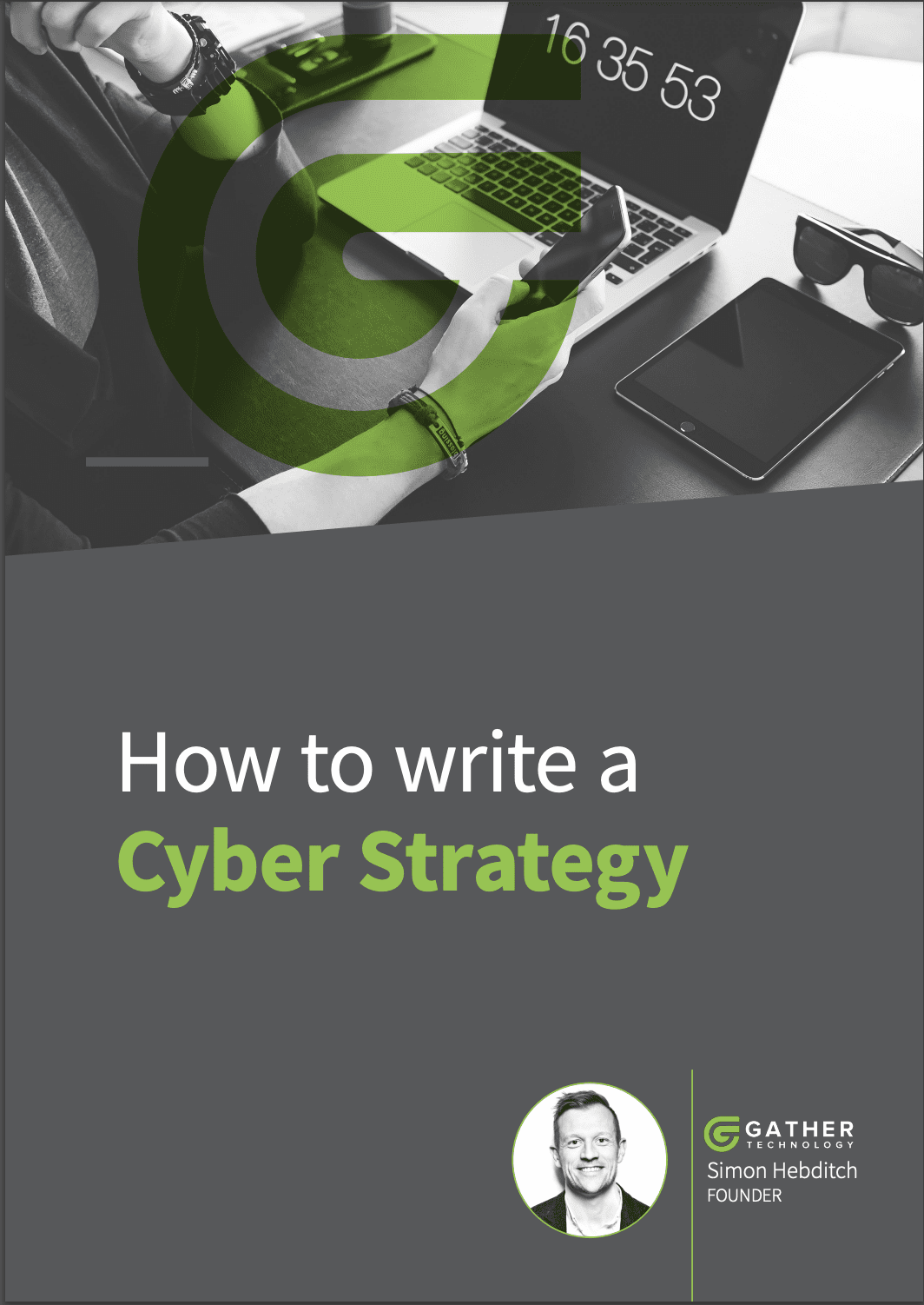 The Benefits Our Clients See
At Gather, we are driven by a steadfast commitment to empower our clients through partnerships with industry-leading technology platforms and providers. Our comprehensive suite of services is designed to equip you with the tools and support needed to excel in your industry.
Responsiveness – Rely on our agile team for exceptional IT support, ensuring rapid issue resolution and uninterrupted operations.
Proactive security – Elevate your security with our proactive cybersecurity service. We proactively test and enhance protection, keeping you ahead of threats. Protect yourselves and your clients.
Minimised downtime – Boost productivity and maintain seamless operations. We minimise downtime to keep your business running efficiently.
Transparency & communication – Our service thrives on honesty and responsiveness, promoting transparency. Stay informed about decisions and thought processes in real-time for a trust-based client relationship.
Experience-based guidance – Unlock our wealth of experience for ongoing guidance. Our team is here, ensuring well-informed technology decisions and continuous support for your success.
Partner with us for a future where excellence, reliability, and innovation converge to create an environment that drives success.
What Our Clients Say About Us
Gather have helped us to create an IT Roadmap that aligns with our business development plan. They have worked closely with us to develop a strategic approach to our IT spend and the options they provide are always carefully considered and cost-effective.

KAREN PANG


ASSOCIATE AT STOKES PARTNERS
Our values guide our decision-making and underpin our culture. They inspire the solutions we produce, the services we provide and the people we employ.
Positivity
We're passionate about what we do, and pride ourselves on knowing our market inside out. We bring a can-do attitude and an open mind to every project.
Humility
We're committed to continual improvement. That means admitting to our mistakes, learning from our experiences and taking the time to appreciate one other.
Responsibility
We're accountable for our actions and focused on finding solutions. Whatever the challenge, we'll tackle it head on.
Integrity
We mean what we say, and say what we mean. Straight talking and straightforward, we keep things simple so we can focus on the job in hand.