Benefits of Agile Software for your Business
From flexible, evolving specs to the fast delivery of usable products, the agile methodology offers many advantages in software development. How do these benefits translate into your business?
COLLABORATION & ENGAGMENT
Sprint cycles always start with a planning phase and end in a feedback or review period. You and your teams will be involved and engaged in the entire software development cycle.
During the initial stages, our project teams collaborate with you to understand your business priorities and technical requirements. This helps us shape the functionality of your software.
Through continuous feedback, your product evolves with more reliability and predictability in each sprint cycle.
CONSTANTLY EVOLVING PRODUCT
Using short, fixed sprint cycles, we can ensure new features are delivered quickly and reliably with a high level of predictability.
By creating a working product (refined and tested as we go) your initial specifications don't need to be restrictive or fixed. Giving our team more opportunity to understand your business and realise your goals with bespoke software.
FAST DELIVERY OF WORKING SOFTWARE
Agile development focuses on real users and their daily interactions with software. Your features are designed to be easily usable and compatible with your current systems.
The testing and feedback from your team allows us to prioritise user features, eliminate any faults and quickly deliver your final outcome.
QUICK, COST-EFFECTIVE VALUE
Your software is uniquely designed and built to deliver value to your business. Whilst off-the-rack solutions initially appear to be the cheapest option, they come with large amounts of updates and hidden costs. Without the latest update, security and usability can be easily compromised.

Through agile software development, you'll have reliable over sight of the project and any costs. You own the software, so you don't have to worry about licensing fees.
Over time, you'll steadily cut the costs of running your business. When it comes to any updates or issues, we can provide quick access to support from the team who built and understand your software.
STAY AHEAD OF COMPETITION
No business wants to be hampered by slow, outdated systems. Your software should develop constantly alongside your business.
Where others are shopping off-the-rack and wasting time on compatibility between systems or non-stop updates, your software is already tailored exactly to you and ready to evolve with your business.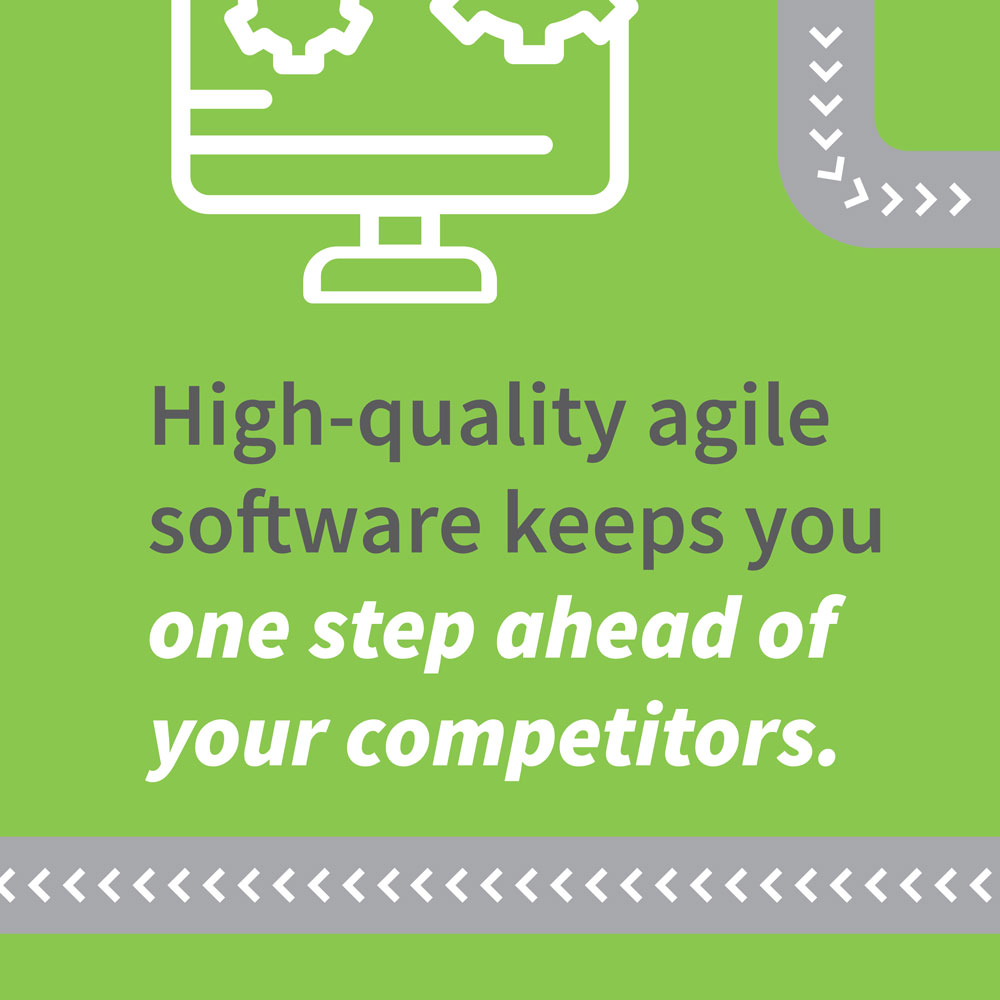 Contact us to discuss how agile software, developed specifically for your requirements and users, could keep your business one step ahead of the competition.